DIY Papaya Enzyme Face Mask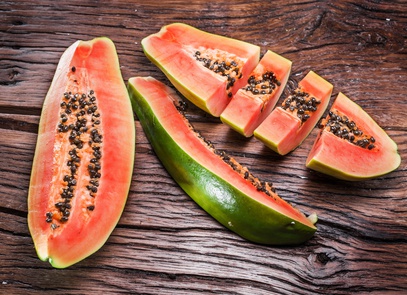 Blend until smooth:
½ cup organic fresh Papaya
½ cup Papaya seeds
1 Tbsp. Manuka Honey
1 tsp. Tumeric powder
Directions:
Pour the blended ingredients into a bowl. Apply to damp skin (post shower of face wash is ideal). The enzymes work better if skin is slightly damp. Leave on for 20-25 minutes. Then Rinse. Use once a week (make a new batch for each use!)
Benefits Of The Ingredients:
Papaya- Natural source of enzymes to slough away dead skin.
Honey – A natural humectant to lock in moisture; contains antibacterial properties that are ideal for acne prone skin
Tumeric- Anti-inflammatory agent. Skin brightener.